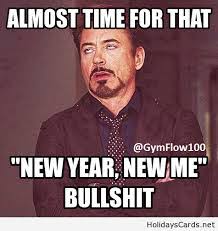 "2017 was 💩, roll on 2018"

"2017 can do one, next year will be my year"
Will you be saying things like this or know anyone who will?
You can predict the Facebook statuses already; every year there are people who'll tell the current year to bugger off "coz it was crap" then wish in the new year because this ones "going to be different".
Just because the calendar rolls into another year, things WON'T magically change nor will your problems just disappear.
Only YOU can make things CHANGE.
You have to ask yourself some questions:
• Why was 2017 not a good year?
• Could you have changed this?
• If yes, WHY DIDN'T YOU?
• If no, could you have reacted differently?
And are you going to repeat the pattern of same year same results yet again or are you going to put some effort into getting different results?
Anything good and worth having takes the consistent investment of your time and energy to keep it on point.
What areas of your life deserve more attention in 2018 to make them better:
• Your mental health
• Your physical health
• Your relationships
• Your job
• Your finances
• Your fun
If you value it, you'll look after it.
Put some effort into these areas and this time next year, things WILL be different.
If something or someone drains you of your time, energy, money or confidence then get rid of them.
We're only here a short while; as each day ends, you've got one less day to live so make them count.
Don't just sleep-walk through life repeating a crappy year each year.
Your happiness, fulfilment and success are there for the taking. Just takes some clarity, hard work, resilience and patience.
Make each year great and strive to keep learning and improving.
Here to help if you need it.